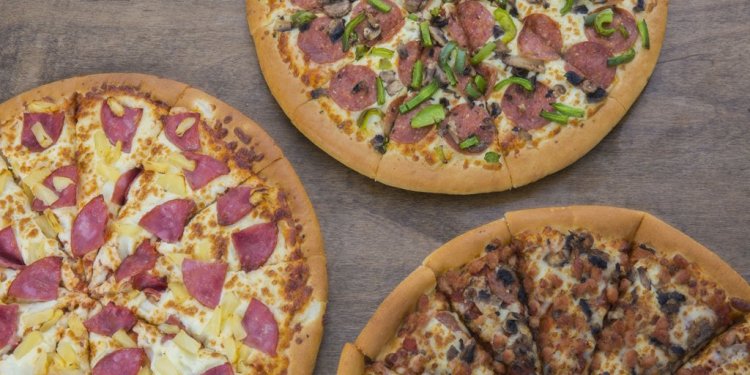 Pizza Hut Buffet Canada
Choose on of our quick, filling and affordable lunch time combos featuring an individual sized Pan Pizza with a thick crust baked to golden perfection. Crispy on the outside, soft and chewy on the inside. Perfect for lunch on the go!
Lunch Buffet available from 11:30am - 1:30pm
Monday - Friday excluding holidays
Oven Toasted Wraps (Grilled Chicken Caesar or Grilled Chicken Pesto)
$ 7.95
Personal Pan Pizza & Side Caesar Salad
Personal Pan Pizza & Side Garden Salad
Pasta & Side Salad .
Grilled Chicken Salads
Choose from the following recipes or create your own 2- topping Personal Pan Pizza:
Canadian eh? - Pepperoni, bacon, mushrooms and mozzarella cheese.
Triple Crown - Pepperoni, mushrooms, green pepper, topped with 3-cheese blend.
Hawaiian - Ham, pineapple and extra mozzarella cheese.
Create Your Own Toppings
anchovy (where available)
bacon
beef topping
cheddar cheese
mozzarella cheese
feta cheese
green pepper
ham

hot pepper
mushrooms
black olives
green olives
pepperoni
pineapple
red onion

red pepper
tomato
Italian sausage
mild sausage
diced grilled chicken
sun-dried tomatoes (where available)
All-You-Can-Eat Week Days Lunch Buffet
Enjoy world-famous pizzas, soup, pastas, salads, hot breadsticks and for desserts our own Cinnaparts. .$9.95
Take Out Lunch Buffet
For 1 Person. pizza and more! ..95
Kid's Buffet-for kids 10 and under
What every kid wants . pizza and more! ..95
For Medicine Hat Locations Call:
403-526-1234
1. 1277 Trans Canada Hwy. Medicine Hat, Alberta
2. #103 - 140 Maple Ave. S.E., Medicine Hat, Alberta
All prices are subject to G.S.T., and may be subject to change.
See also:
Share this article
Related Posts