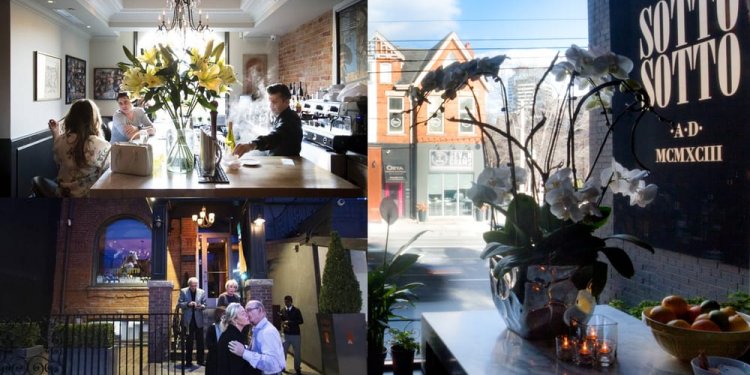 Sotto Sotto Restaurant Toronto on Canada
Nazzareno, our waiter, was fighting to keep ahead of the dinner rush. As he dashed around Sotto Sotto's upstairs dining room, he issued quiet instructions to a busboy, nodding toward the party of French businessmen who needed bread and Burgundy wine glasses. An 8:30 reservation that was newly seated along the south wall required attention. Beyond them, Michael Lee-Chin and his dinner date had just vacated their corner table, which was partly shielded behind a curtain. It had to be cleaned and reset for the next party, fast.
Nazzareno didn't seem fazed. "Guys, it's good to see you, " he said. He was a veteran here. He was lean and tanned and looked to be in his 40s – Mediterranean warmth and confidence personified. He went through the specials as though he had personally cooked them. ("Polpettone!" he enthused mid-spiel. "The meat special! Giant meatballs! Italian meatloaf, off the charts!")
When we ordered a bottle of Taurasi, he hesitated – Sotto Sotto's cellar was destroyed last Christmas in the fire that also wiped out the restaurant's original Avenue Road location.
He knew what we were looking for, precisely. "If we don't have it, I'll get you something similar that's drinking right now – what price range do you want to do?" he asked. He was the consummate waiter, a career server in a field that too often draws dilettantes. As he stepped back out into the dinner rush, Nazzareno said, "Guys, leave it to me, I got you."
For 22 years, Sotto Sotto has endured as a beacon to Toronto's rich and its famous, and as a dinner destination for seemingly every professional athlete, musician and Hollywood star who comes through town. The original space was underground and grotto-like, a candlelit warren of cozy private nooks and tables. Drake, the hip-hop star, called Sotto Sotto his second home.
At the new spot, two doors north of the original, the service is by all accounts the same, and the Roman-inspired food – never brilliant or up-to-date, but always very good – has hardly changed.
Yet the physical space looks and feels like a rush job, done on the cheap, decorated without the charm or intimacy or the privacy-affording crannies of the original. The new place opened not even two months after the original burned. Its ground-floor dining room is so cramped that you may have to bump and shimmy to reach your seat – there are five tables too many. (A staffer I spoke with this week said they're still tweaking the space, and intend to take out a few tables downstairs.) Yet if the crowds are any indication, Sotto Sotto will endure through all that, too.
The restaurant will endure because, above all, its staff know exactly how to treat diners, whether random folk or multiplatinum-selling rap stars. It's the simplest thing, hospitality: You want to know that the wait staff have got you. At Sotto Sotto, they don't leave you with any doubt.
The restaurant is owned and run by Marisa Rocca, who moved here from Rome in 1989 and started out in a dishwashing job. She opened Sotto Sotto in 1993. Then, as now, its menu was as approachable as it was exotic. The fish come grilled simply, with olive oil, lemon and garlic. (It is similar in this way to Joso's, up the street, but on fish cooking and selection I'd give Joso's the edge.)
There's spaghetti al pomodoro, rigatoni ai quattro formaggi, a good Caesar salad. There are all the grilled meats, as well as risotti per due. Sotto Sotto's menu is enormous – it aims to appeal to absolutely everyone. You can have your pomodoro sauce on brown rice in place of pasta, or your caponata on quinoa. I'd start with some grilled octopus and squid and a caprese salad made with burrata, if it were me.
The squid is just excellent grilled squid. It's sweet and tender with char marks from the grilling. The kitchen sets it over cannellini beans that have been simmered perfectly, to creamy-centred. The clams, steamed in white wine and garlic, are excellent, too.
The grilled polenta and mushrooms comes in rich gorgonzola sauce. You need something to balance out all that light food.
The caprese salad was far better than I expected, particularly given that this was mid-April. The tomatoes were dark-skinned: sweet and juicy and beguilingly savoury. But what mattered was the burrata, the fresh, southern Italian mozzarella that's all buttery cream in its centre. The burrata portion on that caprese was the size of a small fist. You had to slurp it as much as you ate it. It had the texture of super-ripe summer fruit.
The pastas are good, the rigatoni puttanesca made just vicious enough with garlic, oil, capers and anchovies. The cacio e pepe – they call it the "Spaghetti alla Jim-Me" here, after one of Ms. Rocca's friends – came weirdly underdressed.
Nazzareno whisked it away without a question after my dinner date complained, and rushed out a second one. This cacio e pepe you could smell before it hit the table: the coarse, just-ground pepper and salty, milky pecorino cheese, clinging for life to steaming noodles. It smelled like a superb plate of pasta, and it was.
For $42 you can get a smallish whole sea bass, competently grilled, though nothing you'd think about afterward. The $47 whole Dover sole was a disappointment. Great grilled fish smells deeply of the grill and of sizzling flesh and skin and, in a Mediterranean spot, of top-quality olive oil and lemon. Here, it smelled like nothing. It tasted mostly of nothingness, too.
The veal scaloppini with lemon sauce was brilliant. The grilled scallops were pro forma and lame.
As for that polpettone, Nazzareno was right. It was Italian meatloaf, and it was off-the-charts good.
The cannoli taste store-bought. (They're made in-house, I'm told.) If you want deadly good cannoli and up-to-the-moment Italian cooking, you go to Buca Yorkville. That's not what Sotto Sotto's for.
what technology wants
why startup fail
where from your's teacher
which science deals with the motion of projectiles
how many device can use hulu
how many solutions exist for the given equation
where to produce music
when product backlog refinement
where science ends religion begins
from where did educational technology originate
who development goals
how many business weeks in a year
which business development increases cash
when solution of ni2 and nh3 combine
tattoo designs
why roadmap is important
when solution of ni2 and nh3 combine
why startups fail
whose forest solution
whose teaching inspired the french revolution
when london was capital of america
where is roadmap in jira
where design software
where is sandro from project runway now
how teaching and learning relate to obe
how technology has changed education
how much solution for bissell carpet cleaner
where design interior
where to make road map
where to manage amazon credit card
solution whose ph is above 7
where to watch business proposal kdrama
how often answers
where to buy business casual clothes
how much system memory do i need
when up start
whose science is it
why device is not compatible
where is working solutions located
where device manager windows 10
how many solution calculator
who prepare project report
whose product is 12 and sum is 7
who solution for diarrhea
where entrepreneur live
which business should i start
how many solutions does this equation have
where to find system properties in windows 10
Share this article
Related Posts