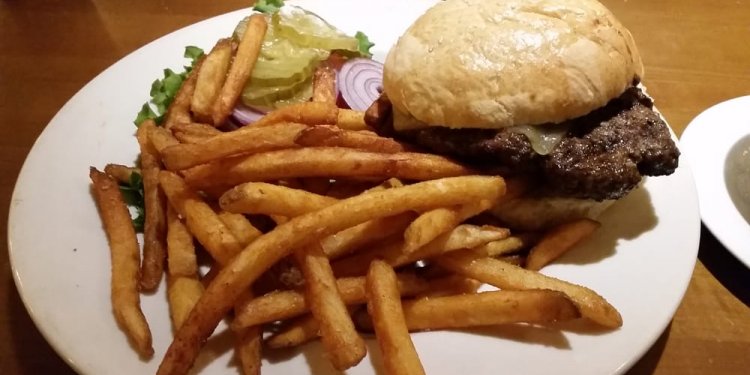 Hill Street Cafe, La Canada
1004 Foothill Blvd
La Canada Flintridge, CA 91011
(818) 952-1019
It's tough to decide if I want to get bacon and eggs or fish and chips. Both of them would be really delicious and filling. So when I found out they don't serve hashbrowns after 1130, my choice was already made for fish and chips. In the true diner style my finishing chips came with two nice big flavorful crispy battered well flavored fillets of cod. I asked for my fries well-done so their crispy. Just the way I like m. And the coleslaw was a pleasant surprise with a hint of sweetness that tasted like pineapple juice added. Some places put raisins in it others add pieces of pineapple. But this was a simple cabbage salad with a nice dressing. I feel like a well executed simple slaw is more satisfying than something more complex and poorly executed. I really enjoyed my meal and will come back again also came with a side salad that I didn't mention because it was just typical bag salad turn on the plate and it's not worth mentioning. I'm a big fan of diner and coffee shop food. And that this doesn't disappoint. But if you're looking for something more complex you won't find it here. It's all about simple Americana style.
I really wanted to like this place but the service sucked and their breakfast chili bowl kept making me think I was eating a giant bowl of diarrhea. It may have been slightly better had I ordered the eggs scrambled instead of overeasy since the taste of runny egg yolk was sadly lost in all the doodie. It was just really, really heavy and even though I didn't finish it (has anyone ever?), I felt absolutely disgusting afterward. My wife ordered the appetizer sampler so I sampled the sampler and nothing was very good at all. The chicken tenders were anything but tender, their onion rings were bland with the breading sliding off, and the potato skins were average at best. I recommend skipping this place and just heading directly across the street to Baked Bear instead. You know you want to anyway.
I think if you came to Hill Street looking for fine dining then you would be disappointed, but grading this popular local spot for what it is - a greasy spoon - its a solid 4. Hill Street is your typical American diner. Lunch and dinner consist of all the standard fare, from sandwiches, burgers, and salads, to chicken, steak, and fish. But the main reason I love coming here is breakfast/brunch. They have a great selection of yummy food: french toast, pancakes, waffles, omelettes, and huge salads. The servers do a good job of keeping your water and coffee filled, and meeting any other food needs. Plus, they have healthier options available if that's what you're in to. This infamous La Canada eatery is right in the middle of town, and though it has a parking lot, peak hours will force you to find street parking. So bear that in mind :)
It was just absolutely fabulous, all our family had pastas and steak, c/salad. We love the clam pasta, I especially love the streak and mushroom pasta, of course following with desert chocolate vanila ice cream. Most of all their service was best waitress was coming by and check up on us continuesly which was so nice. I would recommend this place.
A little on the pricey side for a diner (see $8.95 for garlic fries), but the portions are big and the service was excellent. I came here on Presidents' Day around 11am for breakfast and got seated right away. Our server was all smiles and allowed us to pick some items from the lunch menu even though that doesn't start till 11:30. The chorizo burrito was too big for my appetite and made a good breakfast the next day. My friend had the turkey melt and said it was one of the best they'd ever had. Parking: parking is plentiful and easily accessible behind the cafe.
One of my current favorite restaurants. I am vegan so my options are limited... but the seasoned fries are packed with an explosion of flavor and textured to a delicious ratio of crispy and soft. The split pea soup is hearty and bowl slurping. Especially with some crackers. The lemonade is crisp and delicious. Even when the restaurant is busy, the service remains consistent and attentive. It's filled with people who care about doing a great job.
We always go for Sunday breakfast with the family. They get really busy. Large portions and tasty food. Nothing special just a go to place for good food.
Extensive menu, good service, reasonably priced. Only an over cooked burger kept it from 5 stars. Definitely worth a visit for lunch.
Portions are bigger than what I'm used to, but I find that a good thing. Service is great. The servers regularly came by and checked up on my table and they were very nice. -The Breakfast Chili Bowl and the Turkey Dinner tasted great. The meals are very "heavy", but the food is good. -I don't recommend the Dill Salmon dinner. The dill sauce they use is okay for the first couple bites, but it starts to feel greasy the more you eat. -Cream of mushroom soup isn't something I normally like, but I enjoyed eating it here. The pricing is what you'd expect from restaurants here. Bit on the pricey side.
Food is ok. Overpriced for what you get. Service was excellent and very friendly customer service.
This place was great! Good food and amazing service. WILL return again! We got our food fast and when my boyfriend asked for more bacon, they brought it over in less than a minute. I appreciate their kind smiles and amazing service.
This is one way if my favorite restaurants! Always busy, which is a good sign. Fast service and huge portions. Great vegetarian options. Great for breakfast!
Breakfast is always good. I always get the 2 by 2 by 2. With potatoes O'BRIEN every time. Haven't tried the other pancakes, but I'm sure they're delicious. Lunch/ Dinner So many options, but they pretty much have everything that you can crave. My favorite pasta is the Burracho chicken fettuccini. It comes with soup (boyfriend really liked the lentil soup) or salad and a super fluff yet crisp garlic bread.
I just love all the steaks and pasta, and my favorite desert chocolate vanilla ice cream. Best of all the service is outstanding. I recommend to anyone who likes old fashion update to date foods. Try it at least once you won't regret it. Place is also very clean and the owner she comes and runs the place herself, very sweet too:):):)-
Excellent I have been coming here for years. Don't read these stupid reviews about the food being overpriced and bad. I have never I repeat never received a bad meal here.
Share this article
Related Posts