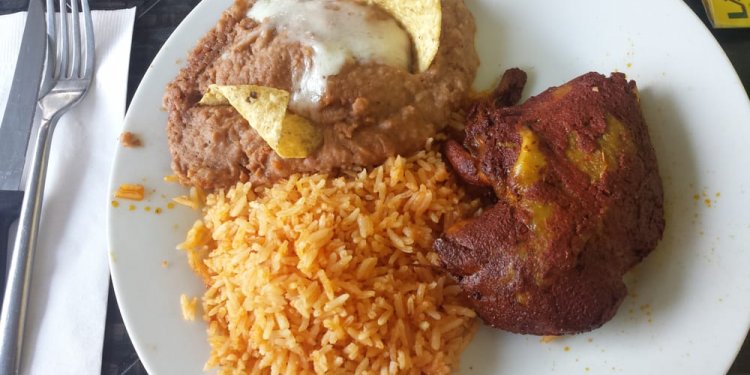 La Canada Restaurant
841 W 19th St
Ste A
Costa Mesa, CA 92627
(949) 722-8330
I've never liked blackened fish but oh man the blackened fish tacos are unreal. Actually, all the tacos are good but I particularly love the blackened fish and shrimp. If you want the secret spicy salsa? Ask for salsa mas picante. It's so good I want to cry. When you sit down, they automatically serve you a basket of warm tortilla chips and delicious salsa (which is actually pretty hot - different taste and bite from the salsa mas picante). There is nothing like scooping up the refried beans with these chips. The service is excellent - super friendly and home-y. If they're busy and not at your beck and call, just holler and ask. They're always so nice but you WANT them to be busy. You WANT them to stay in business. Where else are you going to get consistently tasty authentic Mexican food for such a great price? I need to try more items on the menu but I can never seem to get away from the tacos, beans, and beer. Oh yeah - beer is really cheap during happy hour. Uhhh I love this place soooo much...! PS My friend read my review and told me to add, "The beer is always ice cold." SO TRUE!!
Great service.The free salsa with chips is very good. I ordered the vegetarian burrito. It was huge! About $3.00. They kept testing the music and that was kind of unprofessional and distracting but overall, good eats.
Yummm. So glad that we found this place when we were doing laundry a few doors down. We were starving since the laundry took roughly an hour or so... So we decided to walk around and the plaza and ended up here at La Canada Grill. I seriously love this place. Sure, the strip mall doesn't look so hot, but looks can be deceiving. We ordered a Cubana to-go and a few carne asada tacos as well. Everything was full of flavor- especially the Cubana. The Cubana is like a spin-off of a Cubano, but much better- it has carnitas in it. I'm definitely gonna end up here again and I'll most likely become a regular haha
Best wet burritos in town! I have been going there since they opened, and they never disappoint. Being Mexican, it can be hard to find a delicious Authentic Mexican restaurant. The staff is always attentive, and food comes out fast! By far my favorite local Mexican place.
This place is hands down one of the best Mexican restaurants I've ever been too. And who'd know. Had to update with pictures this time. I am so full, I can't even breath right now. I'm coming back here for dinner - no lie. Will Yelp let me check in to a place twice in one day? I swear I could taste a little cinnamon in the red enchilada sauce...those tricky little rascals!! :) The food here is so good - totally homemade/fresh tasting and just flat out amazing. I could eat here daily. Not sure my heart wouldn't protest that though... I'm so stuffed, so happy...god I love this place.
We've eaten here many times and have never been disappointed. The food is wonderful here. I particularly enjoy the carne asada, and the sauce on the fish is my favorite. The taste is authentic, and the service is friendly.
Great service and value for money. Burritos were very good and their fish tacos were filling.
Good food, good service, good value. Family friendly atmosphere, and the manager/owner (?) was quick to step in and make us feel welcome and our patronage appreciated.
Very solid food! I just wish they stayed opened later. Their blackened fish taco is delicious, not too saucy, fish is still extremely juicy. Carne asada is standard. Carnitas is also above average. The service is always friendly. They have an awesome happy hour from 3-6, cheap beer and fish tacos for 1.50. Wet burrito is also on point, salsa verde over everything!
Service was wonderful. Came in late and the guy was super chill about having us take our time. Super nice Price: cheap Mexican = awesome. Cubano was 7.95 (no tax) Shrimp burrito was $9 Make it wet (both green and red sauce) = extra 2? (Good either way) Comes with free chips and salsa. Yayyyyy!! Taste: Good good good. Cubano with enchilada sauce on side. Mmmmmm Wet burrito mmmmmmmmmm!! Ambiance: seems clean. Good sit down area. No prob Overall service was great and food was great. Good job!
Most authentic mexican food I've had in the area. Being from Houston and in love with Mexican food I've tried a bunch of places. Definitely worth a stop! Excellent, fast, friendly service!
If you want delicious food, look no further! This place is amazing. The owner is the sweetest guy and the food is always delightful. The prices are very fair and Taco Tuesday is a must. I've tried the wet burrito with chicken: get the red and green sauce, trust me. Shrimp tacos: perfection And the salsa is super yummy to snack on if you're starving while you wait for your food. Definitely going to frequent this place.
Just ate here last night with some friends, this was our second time going for Taco Tuesday! Food: My favorite meat in the soft-tacos are Chicken and Carne Asada, my wife really likes the fish, I believe it's red snapper. Service: Excellent, friendly, and funny too! We really like this place and always enjoy our meals there. Thank you!
Everything was great. The service was excellent, staff was really nice, we ordered Carne Asada fries and a Torta. Both delicious and came out quickly. The décor and art was authentic and also hilarious. When we left the owner or manager was around, asked us about the food and let us know about the taco Tuesday deals. Definitely going back. Actually I've been back since writing this review since it took me a week lol .
Not a great breakfast burrito. Very little bacon inside
Big, meaty street tacos. Friendly staff. Their blackened fish tacos are delicious, one of the best around, seasoned just right. But I do prefer them with extra sauce. On Taco Tuesday and their daily Happy Hour from 3-6pm, they're $1.50. Awesome deal. I go here just for them. Grilled shrimp tacos are tasty too but twice that price. Other tacos taste okay, but carnitas was underseasoned and asada was dry. And I'm not into their condiments. Red salsa isn't authentic, too strong of tomato. And I prefer Mexican limes, not the larger sour Persian limes they're serving on the side here. I have only tried their tacos so far, so I can't comment elsewhere. It's surely a decent option on Tuesday when the value is right. But they'd be a 3 star joint if their fish taco weren't so damn good.
Great Mexican food. The fish tacos and shrimp tacos are amazing. I appreciate how fast they are able serve quality food. I highly recommend to try.
blogging about books
blogging about tv shows
blogging about food
blogging about my life
blogging about your personal life
blogging about art
blogging about pets
blogging after retirement
bloating after ovulation
blogging income after 1 year
what after blogging
career after blogging
retired now what blogs
can i retire now blog
to blog or not to blog
blogging is
blogging about blogging
blogging as a hobby
blogging as a job
blogging as a business model
blogging as an educational tool
blogging as a nurse
blogging at medium
blogging at work
blogging at fl250
blogging at 70
blogging at 40
blogging at 60
blogging at college
blogging at the limit
before blogging
blogging platform before
know before blogging
tips before blogging
considerations before blogging
blogging behind the scenes
psychology behind blogging
secret behind blogging
meaning behind blogging
difference between blogging and vlogging
difference between blogging and microblogging
difference between blogging and content writing
difference between blogging and website
difference between blogging and podcasting
difference between blogging and journalism
difference between blogging and affiliate marketing
difference between blogging and social media
blogging beyond the classroom
moving beyond blogging
beyond blogging
blogging by sophia lee
Share this article
Related Posts