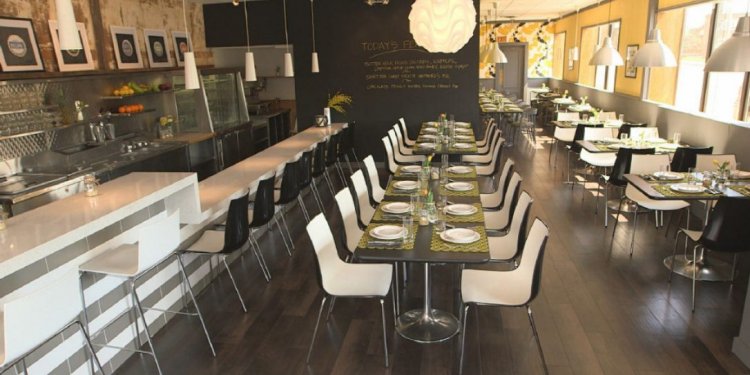 Restaurant Makeover Canada
TORONTO - Restaurants teetering on the edge of bankruptcy need to get with the times, says a food industry expert who is passionate about helping failing eateries get their ledgers back in the black.
Chef Corbin Tomaszeski, who dines incognito as part of "Restaurant Takeover, " says he's amazed that many restaurateurs are not up-to-date when it comes to social networking or don't have Wi-Fi.
"If you look at the younger generation with their smartphones, you've got to get on board with that. People come in with their smartphones. What do they do?" he asked. "They take pictures, there's Facebook, they're tweeting, there's Pinterest, Instagram, there's all those things they do and that's just with their cellphone, " he said.
"That's a huge impact on your business and if you're not set up for it, you're screwed."
Tomaszeski, who is executive chef at the Royal Ontario Museum and has 20 years experience in the food trade, is one of the experts who, along with designers, turn around failing eateries in the new show "Restaurant Takeover." The fresh take on "Restaurant Makeover" premieres Thursday at 9 p.m. ET on Food Network Canada.
"I like the spin on the new direction the show has taken, " with a greater focus on food and more tough love, Tomaszeski said.
SEE: The 13 Ontario restaurants featured in 'Restaurant Takeover.' Story continues below:
Close
Village Pizza, Tottenham; August 30 at 9pm ET/6pm PT
Curry & Roti, Scarborough; September 6 at 9pm ET/6pm PT
Peninsula Resort, Pefferlaw; September 13 at 9pm ET/6pm PT
Shamrock & Thistle, Etobicoke; September 20 at 9pm ET/6pm PT
Sunnybrook Restaurant, Toronto; September 27 at 9pm ET/6pm PT
El Fogon, Toronto; October 4 at 9pm ET/6pm PT
Hillbilly Heaven, Hamilton; October 11 at 9pm ET/6pm PT
Vindaloo Indian Cuisine, Scarborough; October 18 at 9pm ET/6pm PT
Brownstone Bistro, Toronto; October 25 at 9pm ET/6pm PT
Royal Caribbean, Toronto; November 1 at 9pm ET/6pm PT
Rap's, Toronto; November 8 at 9pm ET/6pm PT
Naan & Kabob, Toronto; November 15 at 9pm ET/6pm PT
Frankie's, Toronto; November 22 at 9pm ET/6pm PT
What's different is the addition of spy-cams, which provide undercover footage of what customers would see, "which makes it blatantly obvious why they're having the problems they are, " he added.
"We're actually looking at the restaurant while they're in business, which is something that never happened before. (Before) we went when it was empty, there was never any public there. You now have that realness to the show. It's less stagy, or fabricated as I say, and I also think it's not as predictable as the old show."
He said there's more focus on resolving why the restaurants are having problems rather than just doing a quick fix and creating a few dishes.
"There's a little more accountability on the restaurant's side with the chef and the designer taking over the restaurant. And (it's) really explaining to these restaurant owners that their business is in the pits and we need to do something about it. So we physically take the restaurant over."
Besides Tomaszeski, other familiar faces include Massimo Capra, chef and co-owner of Toronto Italian restaurants Mistura and Sopra Upper Lounge, and designers Cherie Stinson and Cheryl Torrenueva. They're being joined by some newbies: chefs Richard Andino, Derek Minkensky, Andrea Nicholson and Adam Hynam-Smith, as well as designers Montana Burnett, Paula Velez, Amanda Campbell and Alison Milne.
As in the show's previous incarnation, restaurants apply to participate and agree to shut down during the six-day makeover. And they must pony up $15, 000, which the show matches.
There has been criticism levelled at "Restaurant Makeover" — called a curse by some — that establishments have gone out of business after their remake. But Tomaszeski said it's not the TV show that was to blame. Some of the restaurants were already too far gone.
"By the time we get in there and people think that $15, 000 or $30, 000 is going to save a dying restaurant I think they need a little dose of reality. Just because we put paint on the wall and new floors and new tables and chairs, that's not always good enough. People need to throw away the bad habits, " he said.
"More importantly, they've got to adopt the new philosophy about food. Sometimes it's too late when we get there because they're so far in their rut they don't understand."
Some owners have used the makeover to sell their restaurant, he added.
The first season of "Restaurant Takeover" targets 13 eateries in Ontario and shooting is underway on the second season. In the premiere airing Thursday, Tomaszeski and designer Velez redo Village Pizza and Restaurant in Tottenham, Ont., northwest of Toronto. In the reveal, owner Bernice Augusto, whose decor was dated and cluttered, is at first not receptive to the new modern furniture and airier interior.
"You gotta be firm with these people because they don't get it, " Tomaszeski said. "They're so far into the depths of their business falling apart they've lost sight of why they're there, they've lost sight of why they have these businesses. It's really a shame because usually you see that hidden golden nugget of opportunity and they don't."
Tomaszeski, who's working on a cookbook as well as his catering and consulting business, said he tries to help owners look at presentation and service as well as food, and focus on giving customers value and a special experience, such as a signature dish.
how often should a manager give feedback
what workers found in giant snake
startup company
where to develop 110 film
what product protects polish from chipping
where to solve limits
when solutions of kcl and pb no3 2 are mixed
how much start up capital is required to start a business
whose business is best
which tech jobs pay the most
where does energy come from science
when technology and humanity cross
where technology and creativity meet
why technology is important
how much product to use in hair
whom whome
whom company
how much product to use in wavy hair
how much manager salary
what equipment is exclusive to kevesi soldiers
where to set up a roth ira
how many startup companies are there in bangalore
who product mix
where are cruise workers from
what's start up
from where to start teaching english
where to study engineering
who technology invented
where design table
how startup funding works infographic
whom synonym
how much startup capital is needed is a part of
system whose transfer function
which product is an example of a consumer good
how many management theories are there
in startup who ends up with who
where business intelligence is used
what development accounted for the failure weegy
who manufactures astrazeneca vaccine
how many manager does treasure have
what company is enhypen under
which system supports sales forecasting
where technology and humanity cross
entrepreneur who create new ideas
whose project is the metro manila subway
Share this article
Related Posts