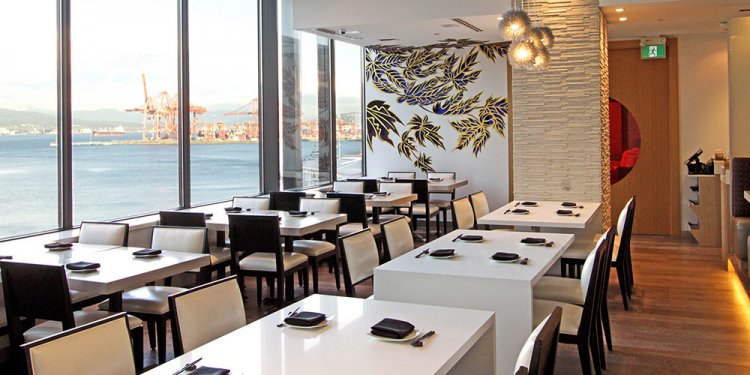 Canada Place Vancouver Restaurants
Life's too short to eat bad food. Thankfully, good food isn't hard to come across in Vancouver. Fresh ingredients are readily available and masterfully put together by chefs with care; unique atmospheres can be found on every corner and variety is the spice of our city.
This list has been put together to give you a small sample of the many culinary wonders of Vancouver within a short proximity of the Pan Pacific Vancouver. The restaurants featured below are located in different landmark areas of town and host a variety of different foods from all over the globe. While fine dining is certainly available within the Hotel, here's a list of Vancouver's favorites outside of it.
Location: 1032 Alberni St
What to order: It's hard not to order anything other than a Prince Edward Island Blue Ribbon Steak, cut and cooked your favourite way. If you're celebrating a very special occasion, you'll want to try the Japanese Wagyu cut. Also, make sure to order a side of Mac & Cheese sticks. Yes, you heard that right!
Proximity from Pan Pacific: 3 mins by car | 13 mins by foot
Location: 2297 E Hastings St
What to order: Any of the legendary pizzas on their menu. Also, make sure to check out their board for special pizzas not available on the daily menu. If you're feeling adventurous, make sure to add an egg onto your pizza as well!
Proximity from Pan Pacific: 9 mins by car | 20 mins by transit
Location: 2201 W 1st Ave
What to order: You should probably order oysters, seeing as you are in an oyster bar, however, their menu does boast great dishes such as the Southern Fried Chicken. Add a Prawn Caesar to the mix and you are set!
Location: 1569 Johnston St
What to order: The Canadian Burger with double-smoked bacon, smokey cheddar and house-made pickles. Need we say more? Get that with a side of their popular fries that are cooked in duck fat and served with bacon aioli and you'll be in flavour heaven.
Proximity from Pan Pacific: 10 mins by car | 23 mins by transit
Location: 1790 Beach Ave
What to order: The deceivingly filling Butternut-Squash Ravioli should be on the top of your list for items to try this winter. If you're looking for something a little more casual, give their famous, sizzling Fajitas a shot.
Location: 562 Beatty St.
What to order: Order whatever your heart desires, you will enjoy it. However, make sure you include an order of mussels during your night out. You will regret not doing so!
Location: 163 Keefer St
What to order: The Sichuan cucumbers are a must. You will likely order seconds. Make sure to try the Shao Bing, a sesame flatbread with cumin lamb sirloin and other great fixings.
Location: Yaletown
What to order: You can't eat here without trying the Dungeness crab & shrimp Cakes. As a main, most people who have ever eaten the West Coast Sablefish at Blue Water Café will recommend it to you without a blink of an eye.
Location: 1480 W 11th Ave
What to order: Anything and everything. The food here is incredible. If there were one dish you can't go without having, it'd have to be the Wine Marinated Lamb Popsicles in fenugreek cream.
Share this article
Related Posts