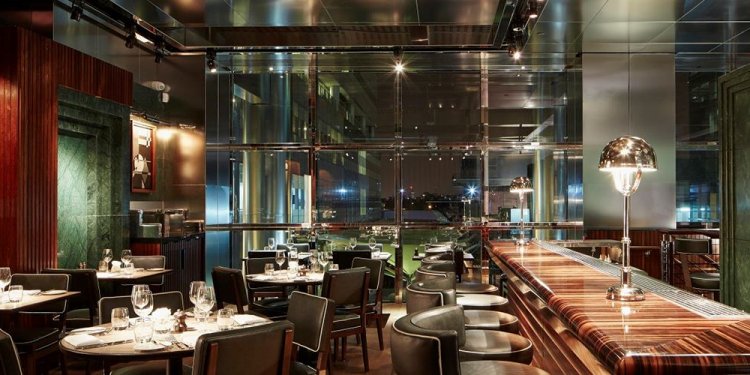 One Canada Square Bar
You wouldn't think it to look at me now but I once worked in Canary Wharf — back in the Nineties when it was struggling to survive as a development. At the time, the tower itself, correctly called One Canada Square, was the tallest building in the country (now surpassed by the Shard) and it seemed inhuman in scale. Our leading architectural critic, Prince Charles, put his finger on the nub of the problem when he remarked: "I personally would go mad if I had to work in a place like that." Thank heavens, that experiment has never been essayed, so far as I know.
Canary Wharf is now thriving mightily, boasting a working population of more than 100, 000 people, mad or not, served by 80 cafés, bars and restaurants, including all the big chains. "Whatever the occasion, the hour, join in the celebrations and indulge in a wealth of choice in a world-class destination, " urges the development's own guide to them. There's a glossy lifestyle mag too ("Canary Wharf") cheering consumers on with insistent use of the word "iconic" (Latin for "unignorably big").
Now this cornucopia has been supplemented by this new restaurant, installed in the north-eastern corner of the actual lobby of César Pelli's massive tower ("a portal to the sky… a door to the infinite"), an intimidatingly overscaled open space, three storeys high, clad with shiny marble, like a lavish toilet for giants.
The David Collins Studio has put a lot of work into trying to make it feel different from that, clubby and established, "inspired by elements of vintage car design" indeed, with ox-blood leather upholstery in the bar and racing-green in the restaurant, wooden flooring, and peculiar herring-bone patterned table tops. Nevertheless, despite the presence of a mezzanine level above and thus a kind of faux-coffering ceiling in the rear dining room, you remain uncomfortably aware that the place is an open-topped compartment within the lobby, all lifts and security guards.
One Canada Square is the latest venture from Tom and Ed Martin (the ETM Group), who have created an empire of soigné gastropubs around London (The Well, The Gun, The Prince Arthur, The White Swan, The Jugged Hare, The Cadogan Arms) and have since moved on to actual restaurants (The Botanist in Sloane Square, Chiswell Street Dining Rooms). Their places are, as Fay Maschler noted of The Jugged Hare last year, "admirably effortful", marked by almost excessive attention to detail and trends. For One Canada Square, they have recruited as head chef Jamie Dobbin, formerly head chef not for the Ivy but for its exclusive subsection the Ivy Club, renowned for posh comfort.
Share this article
Related Posts