Bars British Columbia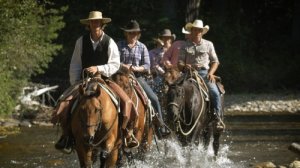 Click on the photos above to see them larger
Three Bars Guest Ranch
9500 Wycliffe Perry Creek Road
Cranbrook, British Columbia V1C 7C7 +1 877-426-5230
+1 250-426-5230 Rates: $320 - $490 ? Minimum Stay
Requirements:3 nights
Check In/Out: Sunday between 4:00 and 6:30 p.m. / 10:30 a.m.Ranch Altitude: 3200 ftRanch Capacity: 44
Three Bars Guest Ranch
Three Bars Guest Ranch
The adventure vacation ranch of the Canadian Rockies.
Three Bars Guest Ranch is a working cattle ranch, but provides all comforts and full amenities. Included are modern log cabin accommodations, full meals, unlimited horseback riding, as well as all ranch activities and amenities.
The entire log facility features private, modern log cabins, a 7500 sq. ft. main log ranch, as well as an indoor heated pool, hot tub, tennis court, and fitness center.
Three Bars Guest Ranch caters to new horseback riders and veteran dude ranchers alike. If this is your first dude ranch vacation, you will feel right at home. Activities at the ranch are designed to include all levels of experience and a variety of horseback riding lessons are available with wranglers certified by the Dude Ranchers Association.
If not everyone in the family wants to ride horses, take advantage of the non-riding rate and spend a relaxing vacation golfing and wildlife viewing, or an adventure vacation hiking and river rafting. Tailor your holiday for as much activity or relaxation as you choose.
Three Bars Guest Ranch also offers many other adventure vacation activities, like 4x4 UTV tours, archery, and skeet shooting, as well as a full evening program. During high season, fill your evenings with volleyball games, fire engine games, casino nights, BBQ cookouts, performance horse demonstrations, and other fun activities.
The ranch is bordered by a blue ribbon fly fishing river. Hike down to the river's edge or float the river with a guide. The St. Mary's River offers some of the best cutthroat fishing in the world.
If the aforementioned activities aren't enough, there are 5 eighteen-hole golf courses within 20 minutes of the ranch.
Non-riders, singles, families, and couples will all have the holiday of a lifetime.
Three Bars Guest Ranch is owned and operated by the Beckleys, who are a fourth-generation family of dude ranchers. They have been teaching guests from around the world to ride and enjoy western horsemanship since 1952. Three generations of Beckleys now live on the ranch and are directly involved in its day-to-day operations.
Three Bars Guest Ranch is also home to Beckley Reining Horses, where Jesse Beckley trains full time and Jeff and April Beckley train and show. Learn more about the reining horses.
Each day of your vacation begins with a delicious ranch breakfast from the lodge dining room. Meet with friends and family on the lodge deck for your morning cup of coffee in the sunshine.
Tyler Beckley will sign you up for your morning adventure, be it a horseback riding lesson, a scenic mountain ride, a family ride with the kids, or a fast ride. You choose. Head out to the corrals after breakfast, where your horse is saddled and the wranglers are ready to lead you on your adventure. Return back to the ranch for lunch and meet up with the rest of the group.
Afternoons you can choose again from a variety of activities, like another horseback ride or perhaps a hike, a river rafting trip, or a trap shooting excursion. All guests return to the ranch by around 4:00 p.m.. After a quick dip in the heated pool, meet in The Saloon or on the patio for a drink from the fully stocked bar.
After dinner, join in on the wrangler's volleyball game, an outdoor campfire, or take part in the famous Three Bars Guest Ranch fire engine games. In Northern Canada, dark comes late during summer months. It is light until 10:30 p.m. and daylight breaks by 5:00 a.m.. Those who manage to stay up late might even see the Northern lights or a show of stars.
Three Bars Guest Ranch is located in the Canadian Rocky Mountains of British Columbia, Canada, between Banff National Park and Glacier Park - a special part of the world that offers an abundance of nature. Airport options include Calgary, Alberta; Cranbrook, BC; Kalispell, Montana; and Spokane, Washington.
If it's time to find the cowboy in you, make your next vacation a dude ranch vacation. This is the place to relax in luxury without sacrificing the adventure you crave. Three Bars Guest Ranch offers all-inclusive vacation packages, May through September.
Wholesome, western food prepared for you in the lodge dining room. Breakfasts range from fresh fruit and yogurt to bacon, eggs and blueberry pancakes. Lunch is served as a buffet that includes fresh salads, ranch baked breads, and homemade soups.

Dinners range from steak off the BBQ with a side of grilled vegetables to rice pilaf and chicken breast in a wine sauce.

The in-house chef specializes in fresh breads and homemade desserts, like cheesecake and hot-from-the-oven cookies.

Three Bars Guest Ranch runs a word-class riding program, facilitated by professional trainer, Jeff Beckley. Horseback rides are kept small, with a maximum of six guests, so each ride is custom-tailored.

Beginner, intermediate, advanced, and family rides are all available. The ranch also offers a full lesson program for all levels.

Other activities include river rafting, fly fishing, skeet shooting, archery, hiking, mountain biking, 4x4 UTV tours, and a full evening program.

Private log cabins will be your home while visiting the ranch. All modern cabins have custom-made log beds with comfortable duvets and pillows, a full bathroom, fridge, coffee pot, as well as a private porch with sun chairs and heaters on thermostats.

Other amenities include free internet, satellite TV, and daily housekeeping.

All cabins are set in a semi-circle around the main guest lodge with automatic yard lights for late nights and coded door locks.

Cabins range from 1 to 3 bedrooms.
green parrot
draymond green stats
bowling green football
green bay quarterback
fleet farm green bay
neon green
green spanish
green lantern pizza
green giant
green diarrhea
green hills mall
green june beetle
blogging websites that pay
green tree frog
green boots mt everest
green gridiron
green converse high tops
green gables
explain xkcd blogging
how to make green
draymond green
green nails
green bay game
emerald green prom dress
different shades of green
green lantern 2011
green dot bank
light green background
jessica green
green wallpaper aesthetic
green hills of stranglethorn
xanga blogging
blogging vs journaling
green thumb nursery
my poop is green
blogging video camera
green tea benefits
green new deal summary
kendrick green
shades of green color
green day american idiot
green day
blogging without social media
green roads cbd
green chiles
green frog
green tea fat burner
green screen background
sage green dress
green flash sunset
green gemstones
blogging alert xyz
green aesthetic background
green beans almondine
lean and green meals
blogging wizard
how to make green dye in minecraft
green ford
green acres nursery
green book
green caterpillar
green jacket
green yellow red flag
how to make green
ceelo green
xkcd blogging
green man gaming
bodhi ransom green
costco green bay
green tea ice cream
green knight
big green egg accessories
green mile
green potatoes
green hair anime girl
free cell green felt
green mussel
blogging youtube
green river
blogging websites to make money
green book cast
green cheek conure
green eyeshadow
green bay packers logo
green acres
green frog
what is a green card
aesthetic green
green sectional
kelly green color
home depot green bay
coughing up green mucus
green mini dress
green dot customer service
green jasper
green shirt
fresh green beans
green yellow red flag
green crack strain
black red green flag
green bean salad
green poop causes
green sunfish
hunter green
joy green
fried green tomatoes cast
green spaghetti
green hell
megan fox brian austin green
crisp and green
green color code
green lakes state park
bloggingx
chad green
where is green bay
tom green county
blogging with squarespace
green tea extract
green thumb stock
green arrow
green buddha
green dye minecraft
green gables
light green aesthetic
emerald green dress
blogging website builder
blogging your passion
green lacewing
how to get green dye in minecraft
lime green
blogging websites
green aesthetic
green day tour
bloggingx pro
joshua green
john green
green goddess
majorie taylor green
green beans
fried green tomatoes cast
green peppers
green hills
green parrot
blogging with google sites
green high top converse
bloggingx pro free download
green bean casserole with bacon
green pokemon
green tree frog
green light lyrics
green felt freecell
dark green nails
green tree
marjorie green
green felt
green bodysuit
green hell
green bay packer game
green eggs
pine green jordan 1
green lantern black
green shirt
green chef menu
green thumb industries stock
ac green
dark green dress
green tea shots
green dot login
bodhi ransom green
green dress for women
green rug
the odd life of timothy green
blogging vs instagram
green crocs
how to make green dye in minecraft
green planet
green acrylic nails
green duvet cover
green prom dresses
Share this article
Related Posts