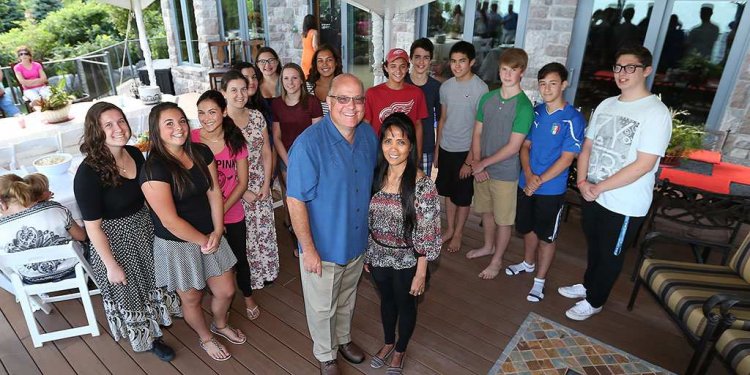 Dominos Pizza Canada
Each day, more than 1 million customers enjoy hot, delicious Domino's products on every inhabited continent on Earth. Around the world, Domino's is dedicated to a single-minded focus of providing great-tasting pizza delivered directly to your door. We pioneered the pizza delivery business, and our total system sells more than 500 million pizzas worldwide every year. Domino's currently has over 5, 000 stores outside of the United States in over 80 international markets, and we're still growing!
The Pizza Delivery Experts have been delivering hot Domino's Internationally for over 25 years! Domino's celebrated the 25th anniversary of our first International store in Winnipeg, Manitoba in Canada and the company, Domino's of Canada, Ltd in 2008. The first International store was opened by Mike Schlater on May 12, 1983. Since then, the store has been relocated only 4 blocks from the original location and still has the same delivery area today.
Mike began his journey with Domino's as a driver and worked his way up into management. While working in Fairfield, Ohio, he saved his earnings, and with some help from his brother, Mike was able to accept the opportunity to have the first International Domino's store in 1983. Within Mike's first three weeks, his store in Canada reached higher sales than his previous store in Ohio had ever attained. However, it was not an easy start. During his first few months in the business, Mike had to chop up his own toppings, along with making his own dough and sauce in the store until the International suppliers were identified and approved to sell their products to Domino's.
By 2001, Mr. Schlater had reached 53 stores in Canada and was offered an opportunity in the United States. Mike sold his Canadian stores, went back to the United States and settled in Indianapolis, Indiana where he ended up purchasing over 130 stores. In five years, Mike made his positive impact on these U.S. stores and then received a proposal to assist Canada and their falling sales. In 2007, Mike sold all of his U.S. stores and is now back working in Canada where he, and a partner, privatized the company and is now President of Domino's of Canada, Ltd. Since Mike's return to Canada, sales are now up double digits. Congratulations!!
Share this article
Related Posts